Any chance you have a spare two hundred grand laying around?
Well then let me present for you a shopping guide to the World's most expensive (and wasteful) motorcycles.
I'm sure we'll see the Rich Kids of Beverly Hills using these for their selfies, while of course never actually riding them, smh.
1. Suzuki AEM Carbon Fiber Hayabusa Costs $160,000
The Suzuki Hayabusa was released in the late 1990's and claimed the title of the world's fastest production motorcycle, reaching speeds of over 188 miles per hour, a distinction it still holds to this day. And in spite of the tire-shredding speeds, it's capable of, it's still reported to be a well-behaved road bike. But for some people, the words "well-behaved" means that Suzuki left something on the production floor, and those people won't stop till they get more. Which is where the AEM Carbon Fiber Hayabusa comes in. The carbon fiber Hayabusa is just that: a Hayabusa where as many parts as possible have been made with carbon fiber. This reduces weight significantly but adds to the price even more. Where a regular Hayabusa can be had for just over $15,000 new, the carbon fiber Hayabusa will set you back over $160,000…which is about $150,000 more performance than most people will ever need.
2. MV Agusta F4 CC Costs $120,000
The F4 CC is a limited edition 200 horsepower Italian superbike that retails at $120,000. It is just one of a whole stable of F4 bikes made by MV Agusta since 1999, all of which are beautiful visions on two wheels. Designed to not only look good but also race, the F4s can tear up the track with the best of them. But don't think the F4 CC is representative of the group. While the CC outclasses the earlier models considerably, the later production models have almost identical stats, but with a much healthier price tag. The 2011 RR model, for example, retails for just over $26,000, actually offers slightly more horsepower, and makes the F4 CC look like a good way to waste money.
3. Confederate B120 Wraith Costs $92,000
The B120 Wraith is extolled for its unique design and construction, which incorporates carbon fiber and other materials in new and unusual ways. A creation of Confederate Motorcycles, the Wraith is an attempt to redefine what a motorcycle should be, and that's to be applauded. Unfortunately, while the design innovation is no doubt unique, it is also totally graceless. Looking more like a collection of distracted doodles than a finished design, the circles, curves, and other shapes don't so much compliment, as just kinda hang out near each other. And the back end appears to have been completely forgotten after the rear wheel was sketched in. Confederate Motorcycles were asking $92,000 for the B120 Wraith, and at that price, you'd think they would throw in a windscreen and a couple of fairings.
4. Harley Davidson Cosmic Starship Costs $1 Million?!?
Harley Davidsons are good reasons for a high price tag on a motorcycle are high quality, great performance, and amazing design. A bad reason is that some guy painted all over it. But that's what happened to one poor Harley Davidson V-rod that may never allow itself to appear in public again. So-called artist Jack Armh2, a self described "Cosmic Extensionalist," painted the hog in a garish yellow and red color scheme, then slapped a $1 million price tag on it. A V-rod normally retails for around $16,000, so that unnecessary layer of casually applied paint costs $984,000. Surely if anyone is a fan of both Harley Davidson motorcycles and Jack Armh2 paintings, they could just buy the bike and the painting separately. Then they can have the pleasure of owning both a classic American work of art, and an incentive to get out of the house and ride it as much as possible.
5. Ecosse Spirit ES1 Costs $3.6 Million
The exotically named Ecosse Spirit was the brainchild of McLaren F1 designer Dick Glover, who with the help of Farrari F1 designer Andy le Fleming aimed to revolutionize the development of high performance motorbikes by incorporating F1 design methodologies. The aim was to achieve significant aerodynamic improvements by repackaging the internal layout to allow the bike and rider to fit together in a narrower aerodynamic profile. The project was announced with great fanfare in 2007 and promised to slash lap times by reducing weight and drag. But despite initial excitement and interest, after several years the only bike the team had produced was a non-functioning wind tunnel test model. And while it's a bit of a tragedy that such an awesome concept never really saw the light of day, at a projected price of $3.6 million, it would have been a complete waste of money.
6. MTT Y2K Turbine Streetfighter Costs $175,000
There are two ways to make a motorcycle faster: make it as light and as aerodynamic as possible…or forget that and put a jet engine in it. Which is what Marine Turbine Technologies decided to do when they built the Y2K. MTT initially used a rebuilt Rolls Royce-Allison model 250-C18 gas turbine engines producing 320 horsepower, before upgrading to a 420 horsepower version in the next generation Streetfighter model. Unlike previous jet powered bikes, the Y2K doesn't have the ability to burn holes in nearby vehicles, because the power is routed through a conventional two speed gearbox to the rear wheel like an ordinary bike. So apart from a very loud and distinctive wail, the Y2K is otherwise fairly normal…if you think of a road legal bike hitting 227 miles per hour as "normal." The price tag of $175,000 is somewhat mitigated by the Streetfighter's unusual ability to consume whatever fuel you happen to have lying around. But if you're able to spend the cash equivalent of a new house on a two wheeled crotch rocket, fuel prices probably aren't your first concern.
7. Dodge Tomahawk Costs $555,000
The Dodge Tomahawk is a concept motorcycle that saw limited production, but was never actually street legal, and that's a really good thing. Because the Tomahawk is to motorcycles what the screaming four year old in the supermarket is to well behaved kids: a very annoying and pointless cry for attention. The bike is a mashup of ideas that belong on a car, including the V10 engine from a Dodge Viper, two wheels instead of one at the front and back, and a literally impossible claimed top speed of 420 miles per hour on a bike with no screen, or any actual aerodynamic considerations to speak of. Thees are all features that can be explained by the fact that Dodge doesn't make bikes, and the only way they can is by designing a car then making it narrower. This bike was originally built as a concept vehicle for publicity purposes, but replicas were eventually made and sold for $555,000 each. According to Forbes, up to ten replicas were intended to be sold. But how many actually left the factory is unknown. There can't be that many prepubescent boys with half a million dollars to burn.
8. TRON Light Cycle
Andrews Collection, a unique car dealership in California, recently sold a replica of the light cycle from the famous 1982 Jeff Bridges movie Tron. If you watched the film enviously, you had a brief chance of enacting your fantasy back in May of this year. The cycle had an electric motor, hydraulic brakes, and an on-board computer that controlled the bike. Unfortunately, the same way that a person cannot have a personal soundtrack without the full-time assistance of a team of musicians, there was no trail of light behind this replica (by far the coolest thing about the bikes in Tron.)
9. Vyrus 987 C3 4V
This bike is powered by a 1200 cc Ducati engine that gives it 211 horsepower and still manages to weigh in at a lithe 350 pounds (compared to a Harley Davidson Fat Boy that weights 700 pounds.) The designer of this bike, Italian company Vyrus, specializes in designing ultra-cool bikes powered by Ducati engines. The gaps between the chassis and the seat and handles give the bike a sporty, almost motocross aesthetic (especially with the thin tires) that serves as visual confirmation of the bike's nimble mechanics.
10. NCR MH TT (Mike Hailwood)
Another exclusive motorcycle, there are only twelve copies of the NCR MH TT in the world. They were built to commemorate the 30th anniversary of Mike Hailwood's victory at the Isle of Man, the world's most prestigious bike race. The MH TT has 130 horsepower, so nothing amazingly powerful, but its titanium frame weighs only 11 pounds (5 kg), and the bike itself weighs just 300 pounds (136kg.) The retro silhouette and color scheme again marry style and performance at a hilariously unaffordable price. This bike is for avid collectors almost exclusively.
11. NCR Leggera 1200 Titanium Special
Based off of the Ducati Hypermotard, this is NCR's first street legal bike; the company typically makes professional racing bikes. The NCR Leggera weighs a meager 328 pounds – a lightness possibly attributable to the company's history of having to make zippy racing bikes – but it has top-notch components, including suspension developed with the help of Öhlins, brakes made by Brembo, carbon fiber BST wheels, and a 10.6 pound titanium frame. Its intense suspension and aerodynamic, hawk-like frame don't allow an onlooker to forget this bike's competitive ancestry.
12. Icon Sheene
The Icon Sheene pays homage to renown World Champion Barry Sheene of Britain. As with several of the other bikes on this, the Sheene was limited edition, there being only 52 copies of it. To mark each bike's individuality, there is a discrete playing card hand painted on it, the bikes together forming an entire deck. The bike produces 250 horsepower with the help of a Garrett turbocharger, but the engine itself is capable of 1,400 cc. When the bike was first produced, it was sold for $172,000 and was dubbed the most powerful motorcycle in the world.
13. NCR Macchia Nera
Once again, this bike was limited edition, which is possibly why it's so expensive. Granted, it was designed by the visionary Aldo Drudi, who showed his sense of humor by naming it "Macchia Nera," or "Black Spot" in Italian, referring to the charred pavement you leave behind when riding it. The price certainly doesn't come from the bike's performance: its hp is 185 and has four valves per cylinder with a six-speed transmission. But the whole bike weighs an anorexic two hundred and ninety-seven pounds, making it the lightest bike on this list so far, and gearheads are sometimes obsessed with their collectibles being lighter and lighter.
14. The Yamaha BMS
The Yamaha BMS has 1,700cc V-twin engine. Powerful, but nothing far out of the ordinary. As with most of the bikes in this price level, the cost is the result of peculiar designs. This bike's seat is upholstered in red velvet and most of the rest of the bike is coated in 24 karat gold with an audacious print. As of 2013, this bike is the only gold-plated chopper on the road. As with most similar things (who could forget Flo-Rida's gold Bugatti Veyron?), this bike is a status symbol and an ostentatious way of literally riding your money around town.
15. Hildebrand & Wolfmuller
This bike was only manufactured between 1894 and 1897. It was the first motorcycle ever produced. It's neither very fast (28 miles an hour top speed) nor very heavy. Back then, motorcycles were not machines as powerful as automobiles, but, as their name promises, bicycles with a rinky-dink put-put motor in them to help a panting man sail uphill. Most of the existing copies of this bike are in museums in, to name a few, Germany, London, Detroit, Maine, or Indonesia.
16. 1949 E90 AJS Porcupine
Only four versions of this motorcycle were ever produced. The company, along with Les Graham, won one World Championship back in 1949 with this bike. The design for the AJS bike changed a few years later, so the world championship edition of this bike remains one of the rarest motorcycles now, which obviously gives it a lot of cache. Some say that the Porcupine is one of the most innovative and beautiful motorcycles ever designed. At 7 million dollars, it had better be, because that is an almost absurdly exorbitant price tag for a two-wheeler.
17. Neiman Marcus Limited Edition Fighter
Most people know Neiman Marcus as a department store. It is typically synonymous with machinery of the highest-echelon. The motorcycle started off at $110,000 – not peanuts, but certainly not worth its later price of 100 times that amount. It would eventually be purchased at an auction for $11 million, possibly because there were only 45 copies of it and was very limited edition. Its credentials aren't very good: it can only reach 190 miles per hour. But its design was beautiful, with some people saying it resembled clockwork and the company marketing it as "the evolution of machine." Despite the price, it's totally street legal.
18. 1915 Cyclone Board Track Racer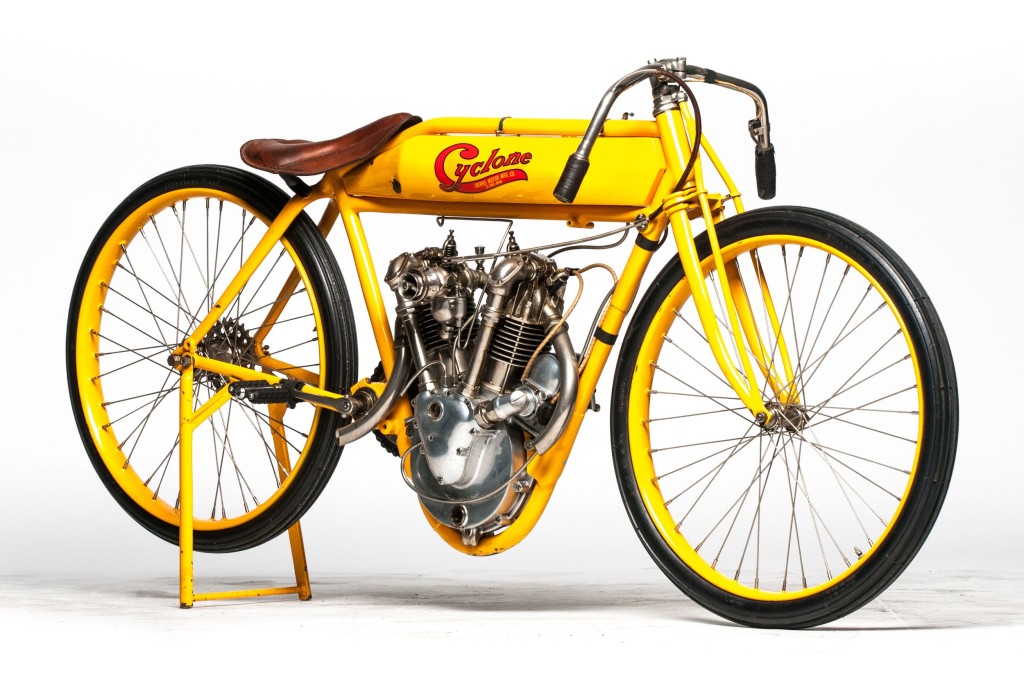 This classic bike was sold at an auction in 2015 in Las Vegas. So what makes this bike so expensive? A record holder and a celebrity ex-owner is bound to jack the price up.
Back in 1911, this Cyclone belt-driven 996cc Overhead Cams V-twin motorcycle was capable of an astounding 180km/h, which was considered super fast back in the day. Even in the early 90s the Cyclone was a rare sight, so to come across such a well-maintained unit a hundred years later makes it almost as rare as a unicorn.
19. Captain America Chopper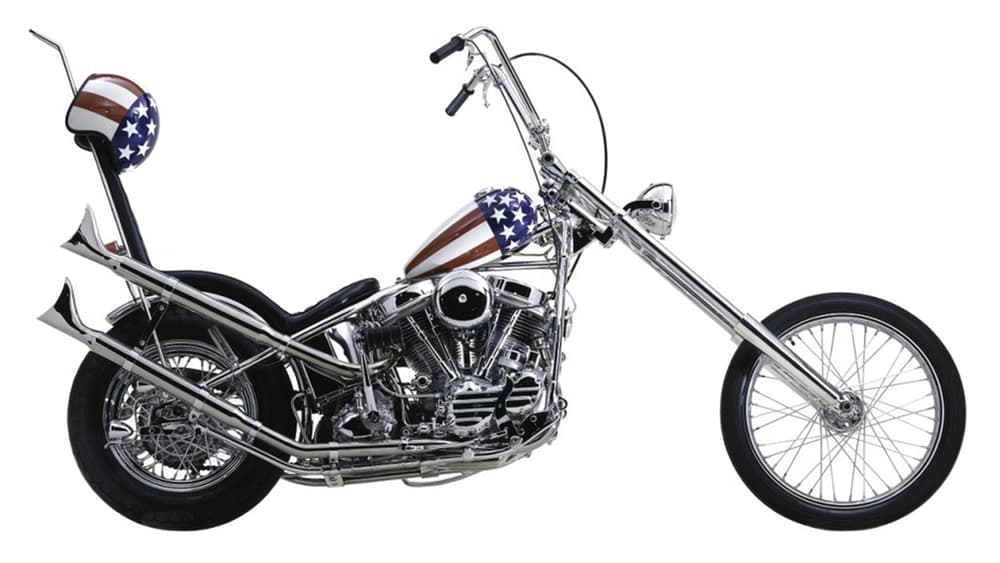 Said to be the most famous bike to have ever been on Television, this Harley-Davidson started life as a 1952 Harley-Davidson Hydra-Glide. Legendary actor Peter Fonda had earlier bought it from a police auction, and given to bike customiser Tex Hall for the 1969 motion picture "Easy Rider".
The bike is also known to be one of only two bikes to have ever sold for a million US dollars at an auction. Two bikes were built for the movie, one was stolen and never recovered, and this one was crashed in the final scene of the movie. It was later rebuilt and sold at auction 1996.
20. Kawasaki H2R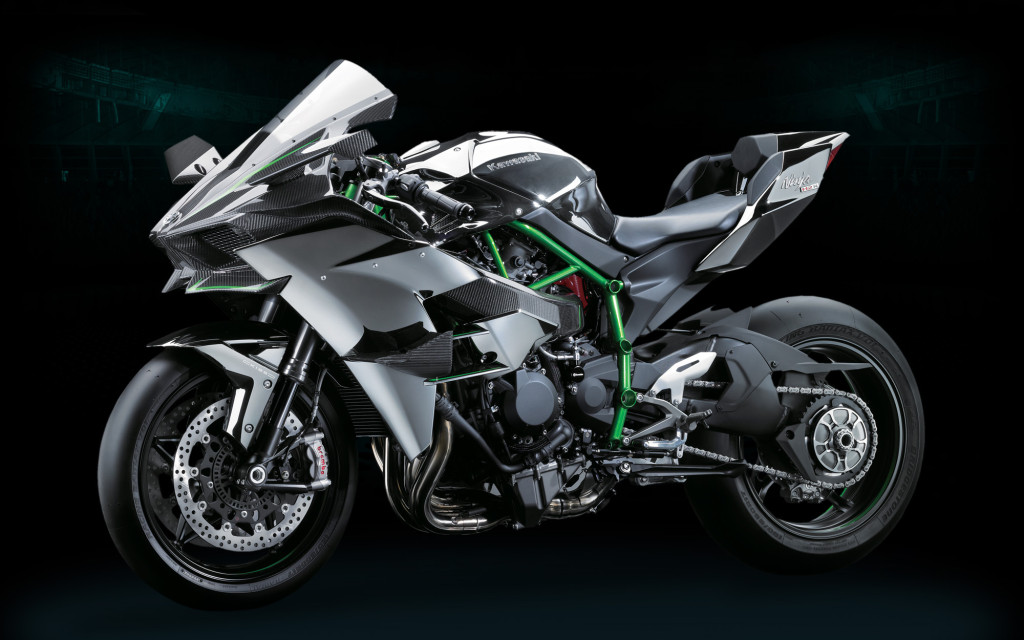 Just to mix things up between the unusually expensive and the real world expensive, the Kawasaki Ninja H2R is the stealth fighter of modern motorcycles. We have wrote about it numerous times and you can read about it all here, or you can read about our special test ride here, yes we ridden this bike.
The H2R is all carbon fiber and is powered by a 998cc, in-line four cylinder engine that puts out an scarcely believable 297hp with the use of a supercharger.
21. Honda RC213V-S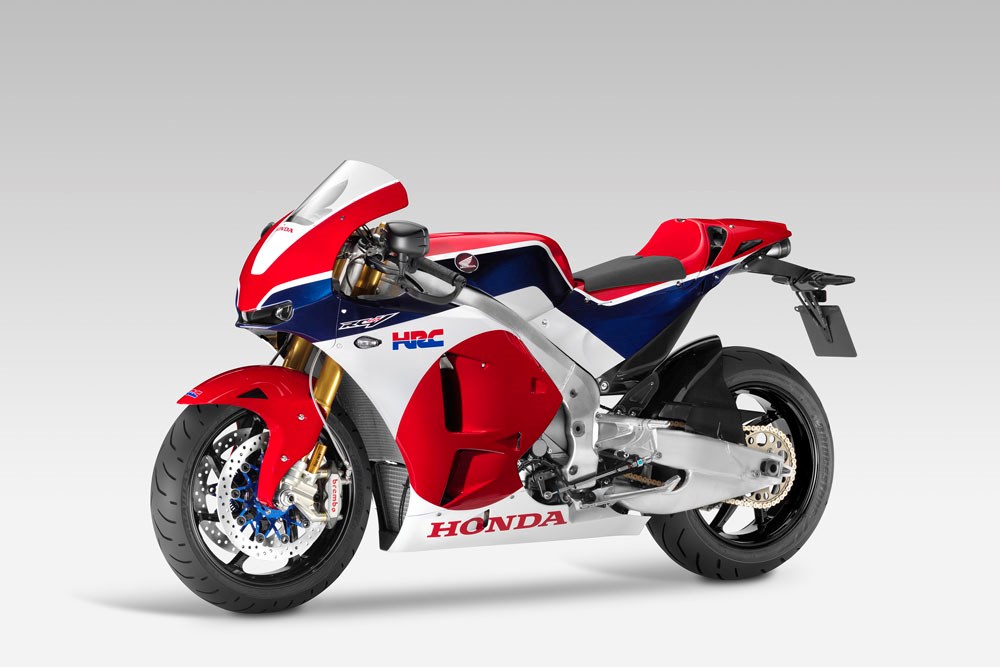 Now this is as close to a MotoGP bike any mere mortal is going to get. It is based on the race-only RC213V which Marc Marquez rode to two MotoGP world championships and Honda said that the new street-legal machine is closer to a MotoGP bike than any road-going model ever offered to the public.
The bike is built in an exclusive workshop in Japan and is powered by a compact 90-degree 999cc V4 engine with titanium connecting rods. Race-derived features include a under-seat fuel tank, carbon fibre fairing and then there are parts that come directly off the MotoGP bike like the swing arm, slipper clutch, the magnesium Marchsini wheels, Ohlins fork, adjustable footrests and foot controls, plus parts of the Brembo brake components. Up to 80% of the bike is from the MotoGP race bike. Mental is an understatement.
22. NCR Ducati Desmosedici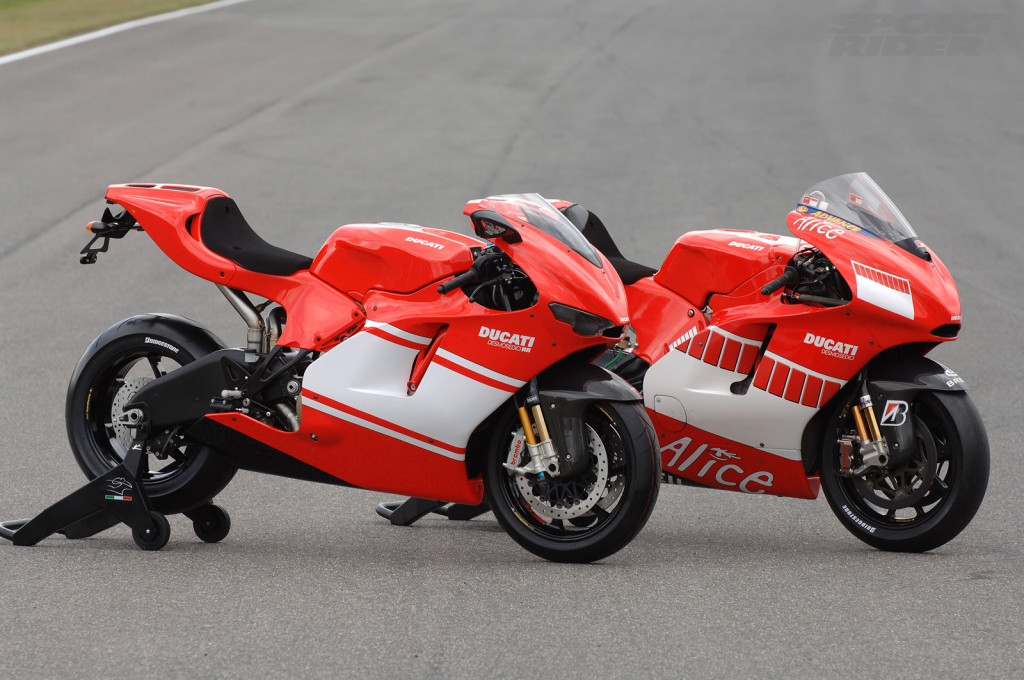 The Ducati Desmosedici is already wildly expensive (rumoured to be over RM600,000 in Malaysia in stock form), but at the hands of NCR and its vast selection of trick parts, the parts have turned this already capable bike into a wild, lightweight performance monster and one of the most expensive bikes in the world. The bike produces over 200 horsepower, features ceramic matrix composite Braketech brakes, two-into-one (x2) titanium NCR exhausts and Ohlins FGR000 43mm with adjustable off-set. The bike weighs in at a feathery 144 kilograms.
23. Hesketh 24
An outrageously enormous S&S 1950cc V-twin engine tuned for more torque than power (125hp and 144lbft – 44lbft more than the Panigale R) with Öhlins suspension and a historic British brand name on the tank. Is it worth £35,000? If someone's willing to pay that much then we guess so. Not many buyers are needed, since the machine takes its name from the number planned for production.
Editorial Disclaimer: Opinions expressed here are the author's alone, not those of any bank, credit card issuer, airlines or hotel chain, and have not been reviewed, approved or otherwise endorsed by any of these entities. Lifetailored has partnered with Creditcards.com for our coverage of credit card products. Lifetailored and Creditcards.com may receive a commission from card issuers Additional Disclosure: This site has affiliate links. We may be compensated when users make a purchase or register to a third party website. For more details read our
privacy policy
.