Wardrobes get stale, but your style doesn't have to. As trends pass on, a man should make some tweaks and adjustments to his closet to keep things fresh and relevant. Yet, this process can be a drag, especially if you like staying consistent with your  look. The trick is to revive your closet while still being true to your own personal taste. By simply adding a few key updates, you can make a huge difference in making an outfit trendier and more now.
 1. Stylish belt
Slapping on a nice looking belt can be exactly the right ingredient to raise the caliber of your look. Of course, you'll need to match your belt with the color of your shoes in case you didn't already know.
Hugo Boss $70.00
 2. Suspenders
If you think of those spruced-up gangsters form the roaring 20s, you'll really understand the heart of this trend. Wear a pair of suspenders with your favorite straight-leg trousers you'll knock em' dead.
3. Classic black V neck shirt
The black V cut is the most universally attractive shape and color for shirts on earth. It makes your neck look stronger, your skin seem brighter and your chest appear sexier – thank you shirt gods! Ultimately, this is a staple that will never die, so just wear it and love it.
4. High top sneakers
Colored kicks are becoming increasingly popular among male fashion icons and celebs alike. You should look for premium leather versions in red, blue or black leather, featuring a round toe, a lace-up front fastening and a brand embossed tongue.
Ralph Lauren  $135
Chad Muska $151.23
5. Leather jewelry
Ironically, leather jewelry makes you look manlier—plus women really go for it. It's rustic, strong and oozes style! Today, guys are committing to this trend, wearing jewelry inspired by all different cultures from tribal to punk.
5. Mismatched jacket & pants
Mismatching your jacket with your pants requires some consideration for the colors and texture you're combining. When done correctly, the results are pretty dapper! For beginners, you can try combining a neural jacket in beige or cream with colored pants in navy or maroon. This can also be done nicely when worn the other way around. If you're still hesitant about whether you're doing it right, you can follow this motto as a safe bet: if it looks off, it probably is—go back and change.
 7. Nautical colored pants
Pants in nautical colors have a modern, sophisticated vibe. Red and burgundy pants are a creative option and are a popular trend on both the runways and streets.
8. Nerd sexual glasses
As part of the hipster cultural trend, nerd sexual glasses are the new bow tie. When worn with confidence and a great hair do, it instantly adds integrity and trendiness to your look.
9. Jean jacket

Take cues from the 90s grunge era and try wearing a light-wash jean jacket for a rugged urban vibe. It's classically trendy and looks great when worn with jeans and lace-up boots for a strong finish.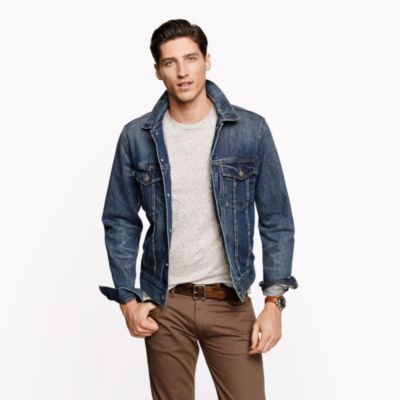 J.Crew $160.00
10. Textured dress shoes
Steady on the side of high fashion, this trend is wearable if you're someone who likes to go out and impress. If this is you, a snazzy pair of texture dress shoes is just your ticket to amp up your swagger.
Urban Outfitters $80.00