This post brought to you by Rakuten Global Market. All opinions are 100% mine.
Ready to get started on your holiday shopping?  No?  Yeah, I wasn't either. However, thanks to the Japanese online retail giant Rakuten Global Market you can cross each and every person off your shopping list with no more trouble than a click of the mouse.  Here's how to get started… First, head over to Rakuten, which at first glance reminds me of a global Amazon, set up to be user friendly and featuring a good portion of their hottest selling items on the homepage for a quick view of what you're in for.
Biggest thing that stands out right off the bat?  The giant red letters stating "Get Global Free Shipping Now"… so you mean I won't be adding $8.00 at checkout for shipping?  I'm intrigued.  This is too good to be true. Your next step is to register to the site, a simple 3 step process to set up your shipping address, user name, all the basics you would need to register for any online shopping site.
Once completing your account you are ready to peruse Japan's largest online shopping site (one of the worlds largest in terms of sales) . Now let the shopping begin… As I found myself looking for my first round of gifts I realized they have as many categories as one could hope for, "fashion, electronics, home and garden, beauty and health…" you get the picture.  Naturally, I went straight to the fashion section to check out what they offered in terms of menswear, and I hit my first goldmine, a beautiful pair of Jean Paul Gaultier brown leather gloves.  The perfect gift (perhaps for myself) and they are nearly $50 off the retail price.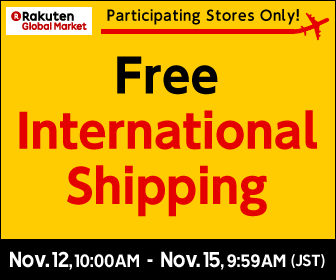 After placing this steal of a find in my cart and I began to checkout I realized I would accumulate some Rakuten "super points", having no idea what this was, I looked into it and found that for every hundred points you earn (I received 240 for these gloves) you get $1 towards a future purchase.  Watch this handy video by Rakuten to have the points explained to you in more detail. From the time I clicked 'checkout' to the short time I was finished the site worked like any other well put-together online retailer.
Confirm your order and shipping address, confirm your method of payment, and you're on your way. So at the end of the day is this all too good to be true?  No.  It is exactly as true as it is good.  Now feel free to revel in the fact that all your holiday shopping can be done (even for the person who has everything)  from the comfort of your couch without ever waiting in line.
What are you going to buy?
Editorial Disclaimer: Opinions expressed here are the author's alone, not those of any bank, credit card issuer, airlines or hotel chain, and have not been reviewed, approved or otherwise endorsed by any of these entities. Lifetailored has partnered with Creditcards.com for our coverage of credit card products. Lifetailored and Creditcards.com may receive a commission from card issuers Additional Disclosure: This site has affiliate links. We may be compensated when users make a purchase or register to a third party website. For more details read our
privacy policy
.